About Jo Deurbrouck
Award winning author Jo Deurbrouck is a former whitewater raft guide and a frequent wanderer down the rivers, up the mountains, and through the deserts, forests, and canyons of the West. She co-authored one previous nonfiction book, authored its revision, and has contributed to the Washington Post, Christian Science Monitor, Paddler Magazine, Creative Nonfiction, The Spokesman-Review and other publications. She holds a M.A. in English from Boise State University. She lives in Idaho with her husband and two dogs.
About this website
Jo's website currently focuses on her latest book, Anything Worth Doing. On the Anything Worth Doing page you can learn more about the book, and read the preface (or download it for free). Use the 'Buy  Now' button to purchase a signed copy or follow the links to one of your favorite online booksellers. On the Presskit page, journalists and book reviewers will find useful information and downloadable art.
Do check back often. Other projects will be showcased as they come together. Currently in the works are highlights from local poetry slam performances and an anthology of Twitter essays.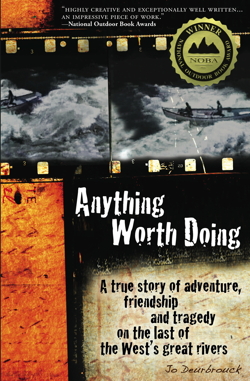 GONE FISHIN'
We apologize for the inconvenience - we're out playing and our online store is temporarily closed. You may still order your author-signed copy here; we will ship your order promptly upon our return on November 5th. Thank you for your understanding.
Or you can order from one of these online book sellers...

2012 National Outdoor Book Award Winner!
"Highly creative and exceptionally well written...an impressive piece of work."
<read the review...>
The last of the West's great wild rivers

A handmade dory

Two men determined to live life on their terms—at any cost

And a writer who makes their story shine